The South Asia Self Harm Initiative
Global Challenge Research Fund: South Asia Self Harm research capability building Initiative (GCRF-SASHI)
SASHI formed in late 2015 as a collaboration led by the Centre for Mental Health and Society at Bangor University. It is a partnership between academics working in Mysore and Karachi and UK academics in Bangor, Manchester and Oxford Universities. The purpose of the GCRF-SASHI project is to help to find effective responses to deliberate self-harm and suicide in South Asia by building research infrastructure and expertise in India and Pakistan. This will allow each country to build a body of evidence to facilitate the development of culturally relevant and effective interventions, both social and medical.
Background
Deliberate Self-harm is amongst the top 25 leading causes of global death
Rates of Deliberate Self-harm (DSH) are high in south Asia, particularly in rural settings
The economic burden of DSH is both direct (family costs of treatment, lost income due to death and disability) and indirect (significant social costs)
Reducing suicide mortality is a Sustainable Development Goal (SDG) indicator
Intended Impact of the project
To create a sustainable legacy of continuing value for individual practitioners and academics, and for policy formation
To create a platform built around hospital and primary care DSH registers, and household surveys
To facilitate the collection of new empirical evidence in each country on the prevalence, antecedents & outcomes of DSH
To better understand what affects help seeking behaviour in South Asia
To identify causal factors that are amenable to intervention
To help develop new service models & action plans based on local evidence
To make extensive use of train-the-trainer models and experiential training
To enhance the skill set of local academic communities
To develop and disseminate a tool kit for establishing DSH registers in low and middle income countries
To develop a strong social media presence through an Impact Lead in each country
Ultimately, to contribute to a reduction in the rates of DSH in South Asia
Project partners
The senior academics from Bangor, Manchester and Oxford universities who are involved in GCRF-SASHI have long experience of working with senior colleagues in south Asia to facilitate locally led and rigorous research in mental health. GCRF-SASHI brings together a new configuration to address a serious public health problem in the region. This will create of a major research platform as a lasting legacy to serve the needs of local populations.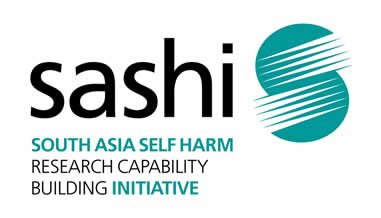 Twitter @Sashi_Research
Tweets by SASHI_Research