Culture and International Mental Health Conference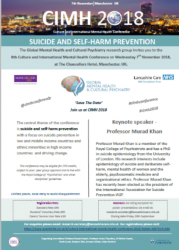 Save the Date
Join us at the Culture and International Mental Health Conference on Wednesday 7th November 2018 at The Chancellors Hotel, Manchester.
Keynote speaker: Professor Murad Khan
Professor Murad Khan is a member of the Royal College of Psychiatrists and has a PhD in suicide epidemiology from the University of London. His research interests include epidemiology of suicide and deliberate selfharm, mental health of women and the elderly, psychosomatic medicine and organisational ethics. Professor Murad Khan has recently been elected as the president of the International Association for Suicide Prevention IASP.
Publication date: 10 August 2018