Building Inter-professional Capacity in Pakistan to Enhance Research
The main aim of GCRF: South Asia Self Harm research capability building Initiative (SASHI) project is todevelop research capacity relating to the study and understanding of self-harm in India and Pakistan. Related to this, SASHI aims to generate new empirical evidence that will inform the understanding of the nature of self-harm in the context of profound social, political and economic challenges in low and middle-income countries (LMIC), such as India and Pakistan. This partnership between researchers in the UK, India and Pakistan will design and implement high quality research that is relevant to policy formation and public health intervention.
I was fortunate to join SASHI as a research fellow and share my expertise of mental health research with the early career mental health researchers in Pakistan.The bedrock of the capability and capacity-building elements of SASHI are PhD students and post-doctoral researchers collaborating internationally. Bespoke training events have been made available to early career researchers, PhD students and post-doctoral researchers to create a strong and relevant learning environment across the programme.
There is very limited research infrastructure and a significant lack of skilled researchers to support mixed-methods research in Pakistan. The aim of my recent visitto Pakistan was to conduct qualitative research training and mentor the PhD and post-doctoral mental health researchers. Qualitative research has gained immense traction and with its adaptability and open ended approach can be applied to understand why people think, feel, react and behave in the way that they do generating insights.
My visit resulted in much enthusiasm and learning. It was an excellent networking experience with early career researchers (MPhil, PhD & post-doc) from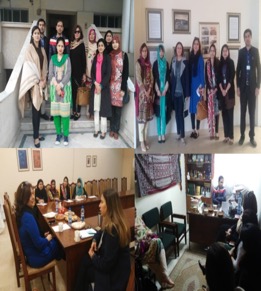 across Pakistan. I met with researchers from Punjab University, Lahore; Government College, Lahore; Fatimah Jinnah University (Department of Research and Anthropology), Rawalpindi; and Institute of Mental Health, Rawalpindi. All researchers shared valuable discussions over the consequences of the limited access to Mental Health Services particularly in the area of suicide and self-harm in Pakistan.They highlighted the recognised gaps in knowledge and lack of reliable data on self-harm in Pakistan. The true extent of self-harm and suicide is uncertain and the World Health Organisation (WHO) believes that the actual burden is significantly under estimated. Moreover, 75% of global suicides occur in LMICs. Self-harm is effectively a regional epidemic in these countries and there is paucity of effective public health responses due to lack of relevant knowledge or any means of monitoring local trends. Large-scale fundamental research is a key to fight this challenge.
An example of the work carried out was the delivery of a two-day workshop on the Introduction to Qualitative Interviewing for MPhil and PhD students at The University of Punjab, Lahore, providing the students with vital research skills. The opportunity to interact with the students working on mental health research projects allowed unique insight into their ambition and commitment to this project. The students individually discussed the research projects they were working on and conferred the challenges of inquiry and access that they face in sensitive areas of mental health research specifically in self-harm and suicide in Pakistan.
The positive feedback from the Two Day Qualitative Research workshop reflected the practicality of the sessions and the importance of empowering the next generation of researchers in Pakistan through the development of key research skills and techniques.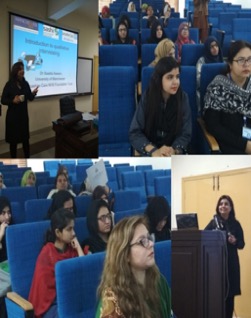 "Very helpful and interactive sessions! Learnt about coding, memo writing and creating themes, which would help me in analyzing my data for my thesis."
"The best part was that things were explained in English and Urdu… there was no language barrier…we truly understood everything."
Conducting research in community setting is challenging. Furthermore, self-harm and mental health are amongst the most complex areas to study, stigma playing a significant negative role both for families who experience self-harm and for professionals working in the field. My belief has been to empower trained and skilled research workforce that can adapt to local conditions which is crucial in addressing Sustainable Development Goals (SDGs) in Pakistan.
SASHI is already ensuring promising steps are taken towards advancement in mental health research and establishing the multidisciplinary management teams in Pakistan. The meetings with academics and training early career researchers highlighted that, there is much willingness to engage in mental health research. A strong passion exists towards developing qualitative research skills in mental health ensuring impact through innovative ways of reducing stigma towards self-harm and suicide.
Publication date: 24 April 2019